One of the impacts of the COVID-19 health pandemic on the Irish labour market was a huge increase in the numbers of people working from home. It is not yet clear how permanent this change will prove to be.
Prior to the pandemic there was a sense that it was a change some employees sought, to better manage their own time and non-work responsibilities, yet some employers remained to be convinced of its feasibility. More than a year later, organisations that were able to, have found remote working valuable in maintaining and developing their work.
As Ireland emerges out of this pandemic and the restrictions placed on economic and social activity ease, will more employers expect their employees to work remotely, will employees wish to return to their place of work to separate out their working and family lives? Whose choice will it be ultimately, and who will bear the cost?
In July / August of last year the Department now called Enterprise, Trade and Employment undertook a public consultation on this issue and they summarised the key themes raised as follows: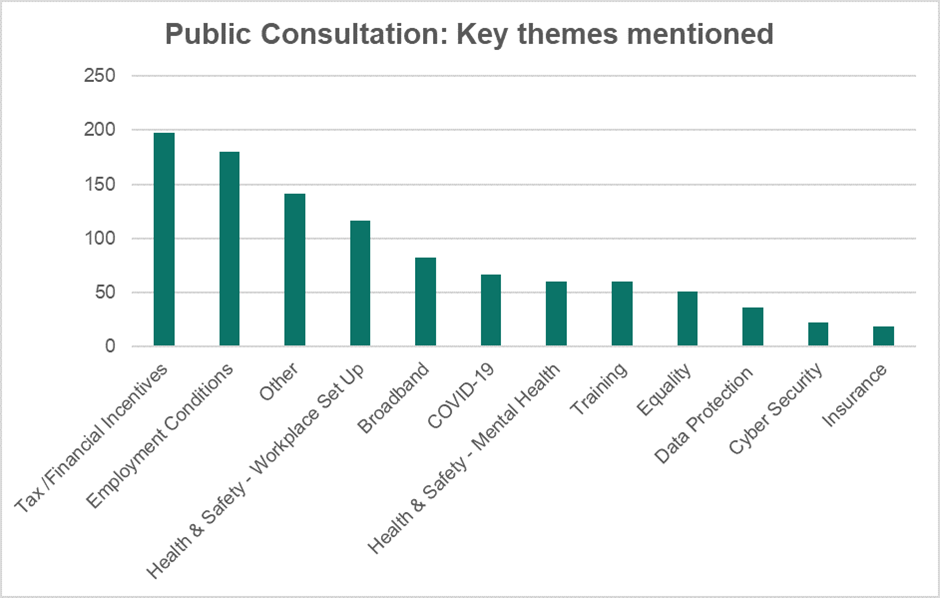 Earlier in the year, the Government published Ireland's National Remote Work Strategy entitled Making Remote Work and note that "The objective is to ensure that remote working is a permanent feature in the Irish workplace in a way that maximises economic, social and environmental benefits."
The Strategy will be built on Three Pillars:
Creating a conducive environment for the adoption of remote work.
Developing and leveraging of remote work infrastructure to facilitate increased remote work adoption.
Maximising the benefits of remote work to achieve public policy goals, including a Guidance Framework.
Promotion and skills are noted as part of the underpinning conditions, yet the three actions highlighted have a strong promotion focus to them. And what will happen if the public sector employees targeted under the first bullet point do not wish to work remotely?  
Mandate public sector employers, colleges, and other public bodies to move to 20 percent home and remote working in 2021.
Raise awareness of existing remote work hub infrastructure in Ireland.   
Promote remote work amongst businesses. This includes raising awareness of remote work, training and advising on the skills interventions required for the successful adoption of remote work. Businesses should also be advised on best practice in relation to ensuring equal opportunity amongst remote and office-based workers.   
Amongst the actions under Pillar One are:
Legislate to provide employees the right to request remote work.
Introduce a code of practice on the right to disconnect.
Provide employers and employees with ongoing up-to-date guidance on remote work.
A key question to be explored here is, what happens if the employee who has worked remotely moves out of their job, for whatever reason, and the person who is offered the job does not wish to work remotely?
Amongst the actions under Pillar Two are:
Make a significant investment in remote work hubs and infrastructure in underserved areas to underpin the development of the national hubs network.
Map commuter, skills, and childcare facilities data to inform future hub development decisions. In addition, identify a set of appropriate economic metrics to track the impact of remote work (including both hubs and homes).
Explore how the National Broadband Plan can be accelerated; delivering connectivity as soon as is feasible across rural Ireland as a central part of remote work infrastructure.
There is a strong emphasis in this Strategy on hubs as the means to support remote working, but how will people who wish to work remotely from their own home be supported?
Amongst the actions under Pillar Three are:
Develop national data on the incidence and frequency of remote work, as part of a wider effort to improve data on flexible working arrangements, to provide an evidence base for future policy.
Establish a centralised cross-departmental knowledge base on the costs and benefits associated with the increased adoption of remote working to understand impacts on areas such as, employment, transport, carbon emissions, broadband, and equality.
If you wish to read the full Strategy please follow this link.