Building Futures Training Initiative, QQI Award
Location: City Centre, Dublin 1
Course Description: Full Time Day Course
Course started: September 2018 (This is a one year course)
****************************************************************
What is Building Futures?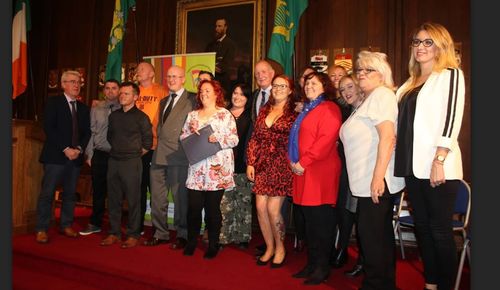 Building Futures Graduating students 2018
We are delighted to announce that year 8 of our Building Futures Local Training Initiative (LTI) which will be based in Dublin 1 has now begun.
The Building Futures programme is funded through the City of Dublin Education and Training Board (CDETB) and the European Social Fund. The programme is a QQI accredited programme with participants working towards a major award in Community Development with the addition of a QQI level 6 minor award in Training, Delivery and Evaluation.
The programme aims to provide learners with the knowledge, skill and competence to work effectively in a range of community development work settings. This programme also helps develop skills for working in other settings such as training & education and / or progression into further or higher education. Building Futures includes workplace internships which will draw on participant's life experiences to enable them to become community workers, peer educators, trainers and mentors.
The primary aims of Building Futures is to:
Support participants to become effective communicators, trainers, peer supports, mentors, facilitators and community workers.
Develop a participant's expertise to use his/her own life experience effectively for training.
Develop the capacities of local communities experiencing disadvantage through training unemployed people to become Trainers and Community Workers.
For further information please contact us on 01-8560088 or click here to send our training team an e-mail.
Building Futures is a Local Training Initiative.